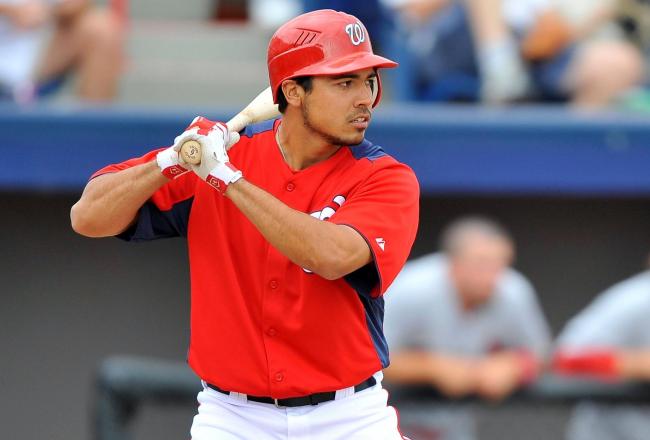 UPDATE:
The Nationals have assigned three others to the minor league system. Assigned were OF Eury Perez, IF Will Rhymes, and C Sandy Leon. With a healthy Wilson Ramos and Kurt Suzuki, L:eon,w ho saw major league time last season, was destined for the system. Perez is a prospect who could very well begin to see time in Washington this season. in 8 games and 23 at bats, Perez batted .348 in spring.
_______
The Nationals have made another round of moves as they continue to reduce their roster with an eye on Opening Day, just a few weeks away. Former first round pick Anthony Rendon has been sent to AA, where he will begin the season at Harrisburg. Also sent to minor league camp; pitchers Nathan Karns and Pat McCoy, as well as, infielder Matt Skole.
Rendon, the Nationals top prospect, has had a torrid spring, hitting .375 with four home runs and 11 RBI. Rendon is a third baseman, but has been learning to play second base as well. The re-signing of Adam LaRoche sealed Rendon's fate, as the move kept Ryan Zimmerman at third base for at least two more seasons.
Skole, the Minor League Player of the Year, will also begin the season with Harrisburg. Skole has big time power, evidenced by his 27 home runs last season at Class A Potomac and Hagerstown. A fifth round pick out of Georgia Tech in 2011, Skole is a natural third baseman, but like Rendon, is blocked by Zimmerman (and LaRoche).
The Nationals are set at the corners on the bench with Tyler Moore and Chad Tracy. General Manager Mike Rizzo would prefer Rendon and Skole play every day, so even if the corner reserves were not set, they may have been destined for the minors anyway.
Karns, the Minor League Pitcher of the Year, along with the left-handed McCoy, are talented prospects, but like the position players, the Nationals Opening Day pitching staff was largely decided before Spring training even began. Karns spent last season split between Class A Hagerstown and Potomac, where he combined to go 11-4 with a sparkling 2.17 ERA. McCoy spent last season at AA Harrisburg, going 7-3 over 50 appearances in relief. With Zach Duke the only left hander in the Nationals major league bullpen, McCoy bears watching at AAA Syracuse in April and beyond.
no comments