Redskins Roundup: Trouble on the back end
DISCUSS THIS IN OUR REDSKINS FAN FORUM!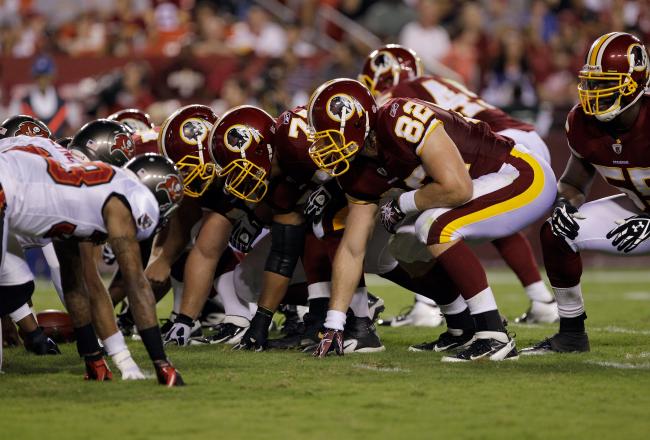 INJURY UPDATE: LT Trent Williams [knee] and CB Cedric Griffin [hamstring] did not practice yesterday. Neither has been ruled out of Sunday's game, but players that don't practice generally don't play. WR Pierre Garcon [foot], WR Brandon Banks [hip], SS Brandon Meriweather [knee] and TB Evan Royster [knee] were all limited in practice.
Speaking of WR/RS Brandon Banks, he expects the Redskins to have success all year with that option pitch to him that gained 29 yards on 3 carries last week. That could be so, since the play forces the defenders to choose between covering RG3 or Banks and both players and quick enough to make a bad decision very costly for the defense. On the other hand, it will continue to expose RG3 to a lot of hits.
Speaking of Robert Griffin, he likes to throw down the middle and he's good at it. We know this because of Pro Football Focus:
Griffin has thrown 13 passes between the numbers from 10 to 19 yards downfield. He has completed 11 of them for 261 yards and a touchdown and no interceptions. That comes to a quarterback rating of 144.4.
Overall, Griffin appears to be more comfortable throwing down the middle. He has aimed 80 passes (subtracting spikes and throwaways) and he has thrown 49 of them between the numbers and 31 outside the numbers.
The Redskins offense is first in scoring at 33 points per game and 6th in offense at 404..3 yards per game, huge irmprovements over last year. They'd be better, though, if their high-priced free agent wideout, Pierre Garcon, could get healthy and play. He isn'tt healthy, though, and there is no word on when he will play again this season.
The Redskins are happy to have the real refs back. So are we all.
The Redskins defense is giving up 8.8 yards per pass play, the worst in the NFL.
Big plays have been the greatest problem in consecutive losses to St. Louis and Cincinnati, and even in the Week 1 win over New Orleans.
Washington surrendered a 33-yard touchdown pass against New Orleans, a 34-yarder against St. Louis and touchdown passes of 73, 48 and 59 yards against Cincinnati. ...
The starting point for discussion has been Cincinnati's 73-yard touchdown on the first play from scrimmage.
Bengals wide receiver Mohamed Sanu lined up as the quarterback in the wildcat formation, with quarterback Andy Dalton as a receiver wide to the right. Sanu threw a deep pass to slot receiver A.J. Green, who outran strong safety DeJon Gomes in man-to-man coverage.
The Redskins expected Cincinnati to run out of that formation.
Multiple players, including Williams, said they were unaware of Sanu's throwing ability despite his four collegiate touchdown passes.
Meanwhile, Cincinnati offensive coordinator Jay Gruden said in a national radio interview this week that he saved that pass specifically for Haslett's Redskins because he knew they would play without a deep safety against that formation. Gruden and Haslett coached together in 2009 with the United Football League's Florida franchise.
"We actually knew that the receiver could throw," Haslett said. "We just didn't know he could throw 50 yards on a rope."
Haslett said the Redskins wouldn't have surrendered a touchdown on the play if they had lined up properly with cornerback DeAngelo Hall covering Green in the slot instead of the slower Gomes. Hall initially covered Dalton on the play, and he was too far away to catch up to Green.
"They were just taking a shot," Haslett said. "If DeAngelo gets on him and you're off at 10 yards, then you're still fine."
The Bengals' other two long touchdowns were clear player breakdowns. On the 59-yarder, receiver Andrew Hawkins beat rookie Richard Crawford to the deep middle in a Cover-2, a weak point in that defense Crawford is coached to defend.
Armon Binns went 48 yards for a touchdown on a quick out route on second-and-20 after cornerback Josh Wilson slipped coming out of his break.
The Redskins blitzed seven defenders without any safety help, hoping to force a quick throw that could put the Bengals in third-and-long. They were successful — Dalton released the ball 1.4 seconds after the snap — but Wilson didn't make the play.
That re-ignited last year's discussion about the risks and rewards of the Cover-0 blitz, of which Shanahan is a proponent.
Haslett on big plays being allowed: "We have to play better technique. It would be good to get guys healthy and get some guys back. But the big thing is to play with technique….We covered our butts off against maybe the best offense [New Orleans] that's ever played in the National Football League. I know they can do it. We just have to keep working."
He pointed to the touchdown allowed by Richard Crawford as one of the technique issues. Haslett said the corners were instructed that if they're in cover-2 – they were only in it twice all day – and Andrew Hawkins is in the slot, then he needed to stay on his "high shoulder." In other words, you can't stay underneath him as Crawford did.
One NFL source said the Bengals coaches had to be salivating when they saw that look, with the safeties splitting out wide to either side of the field and leaving the middle open. It's an automatic adjustment for the slot receiver to break down the middle.
Rich Cambpell has five questions for the Redskins about the upcoming game in Tampa and the first two are about the secondary.
One player on defense who is getting it done is OLB Ryan Kerrigan:
Per Pro Football Focus, Kerrigan has a total of 19 quarterback pressures with three sacks, five hits, and 11 hurries. That is the more than any other 3-4 outside linebacker has this year. Yes, more than Clay Matthews (17) and more than DeMarcus Ware (12). He is tied for second most among all edge rushers (Cameron Wake, MIA, 21).
Against the Bengals, in his first full game without Orakpo on the other side, Kerrigan had five quarterback pressures (1 sack, 2 hits, 2 hurries).
Opposing player to watch: DT Gerald McCoy. After looking like an injury-prone bust his first two years in the league, Gerald McCoy is showing the form the Buccaneers expected when they drafted him in 2010. He has three sacks in three games and leads a defense giving up an NFL-best 47 rushing yards per game.