Washington Capitals March Prospect Update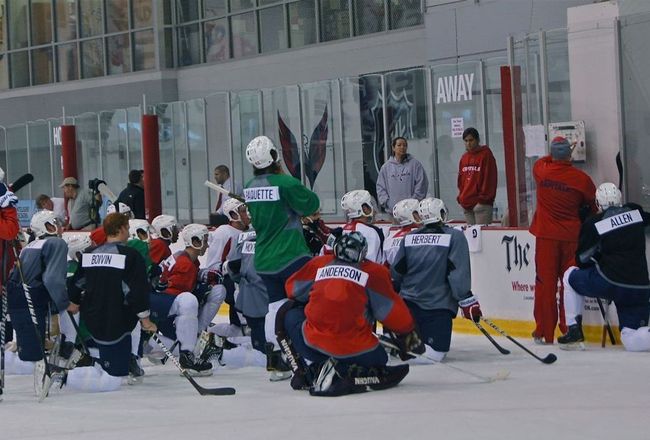 Brandon Anderson
G – Brandon Wheat Kings (WHL) – 19
Brandon Anderson, who started the season alternating starts with fellow Wheat Kings netminder Corbin Boes, has settled into a backup role for Brandon. That said, he has been great in that role. Anderson appeared in four games this month, recording a solid .915 save percentage, a somewhat-bloated-but-ultimately-solid 2.68 goals against average, and three wins. Anderson has great potential, and he will turn pro next year. He could do with improving his all-around play, but the Caps should be encouraged by his play of late.
Travis Boyd
C – University of Minnesota (NCAA) – 18
Travis Boyd, who had a tremendous start with the Minnesota Golden Gophers, is in the midst of a difficult spell in his freshman college career. After racking up six assists through his first 16 NCAA games, Boyd is on a twelve-game pointless streak, which included his five games this month. Boyd, who impressed with his speed and energy at Development camp in the summer, has been a serviceable bottom-liner, but he needs to improve his offensive contributions heading into next season. Boyd now has six assists in 28 games in his rookie NCAA season, and is still looking for his first goal.
Greg Burke
C – University of New Hampshire (NCAA) – 21
Junior Greg Burke, a 6th-round-pick from the 2008 draft, had a solid month for the University of New Hampshire Wildcats, appearing in eight games, scoring two goals and adding an assist, but was a -5 despite the five 'Cats wins. While Burke's five goals and five assists through 30 games looks bad, it can actually be seen as encouraging to his development considering the checking-line-ness of his game. That said, if he wants to earn a contract with the Caps when his college eligibility runs out next season, he'll need to improve in his senior year.
Samuel Carrier
D – Baie-Comeau Drakkar (QMJHL) – 19
Sam Carrier has been arguably the most impressive prospect of all in the Caps' pool this season, and he had another very strong month. The Varennes, Quebec-native appeared in seven games for the Drakkar, scoring two goals and two assists (he now has 12 goals and 30 assists through 52 games this season). He even got the honor of captaining his team for a number of games. Carrier went down with a lower-body injury late in the month, but the expectation is that he will return in time for the QMJHL playoffs to start.
Stanislav Galiev
LW – Saint John Sea Dogs (QMJHL) – 20
Popular Russian winger Stanislav Galiev made his long-awaited return from a broken wrist, appearing in his first games since early October. Galiev came back with a bang, scoring six goals and recording a +5 in his eight games. His impressive month gives him nine goals and three assists through 13 games season, numbers that are just fine considering his season has been decimated by his injury. Expect Galiev to have an even better March, and look for his Saint John Sea Dogs to make another run for the Memorial Cup in the CHL playoffs.
Andrew Glass
LW – Carleton University (CIS) – 21
Andrew Glass, who last month put himself back on the prospect map after joining Canadian Interuniversity Sport's Carleton University Ravens, had a solid month. In four regular season games, Glass scored two goals and added three assists for five points. The Ravens then moved on to the playoffs, where they beat Toronto in the first round before being knocked out by UQTR  in a three-game Ontario division playoff semifinal series. In his six playoff games, Glass scored one goal and one assist. His future at this point, both within the Capitals organization and in his hockey career, is unclear.
Garrett Haar
D – University of Western Michigan (NCAA) – 18
Dman Garrett Haar continues to get plenty of playing time, despite being a lower-pairing blueliner for one of the NCAA's stronger teams. Haar appeared in eight games this month, recording one assist to go along with a +1 rating, bringing his season totals to one goal and six assists through 31 games. Haar impressed in camp with his fellow Caps youngsters this summer, and has continued his impressive form into the Broncos season. He sure hopes that will continue into the playoffs, where the Broncos are expected to go far.
Caleb Herbert
C – University of Minnesota-Duluth (NCAA) – 20
Caleb Herbert continues to be the most pleasantly surprising Caps prospect of all. The 2010 5th-rounder, in his rookie season with the Bulldogs, was expected to be a lower-line player providing offensive contributions from time to time, but it would be an understatement to say he has let the NCAA on fire. Herbert played in eight games this month, scoring two goals and four assists to bring his season numbers to 12 goals and 17 assists in 34 games. Herbert has been better than brilliant for Minny-Duluth this season.
Patrick Koudys
D – RPI (NCAA) – 19
Patrick Koudys started the season as a regular for the RPI Engineers, but has since seen his role diminish to the point where he is often made a healthy scratch. This month, Koudys appeared in four games, going pointless (he has just one goal and one assist in his 27 games this season)  and -2. Koudys' struggles are in large part due to the struggles of the RPI program, and if the sophomore wants to pursue his NHL dream, hemay have to transfer to a better college hockey program this summer.
Evgeny Kuznetsov
RW – Traktor Chelyabinsk (KHL) – 19
Another month, another string of sensational performances from Evgeny Kuznetsov. In February, Kuzya appeared in eight games, scoring one goal and four assists for five points to give him 19 goals and 22 assists through 49 games this season. He was injured late in the month, and is set to miss the start of the KHL playoffs with what was diagnosed as 'deep tissue bruising'. Kuznetsov has the potential to be one of the very best players in the NHL; it's just a question of whether he makes the move to DC or if he stays in the KHL this summer.
Nick Larson
RW – University of Minnesota (NCAA) – 23
Nick Larson missed the whole month of February after undergoing wrist surgery in late January.
Taylor Stefishen
LW – University of Calgary (CIS) – 21
Taylor Stefishen continued on his tear in the CIS since joining the University of Calgary Dinos this summer. In four regular season games, Stefishen scored one goal and added one assist. In the playoffs, he appeared in three games, recording four assists and playing a major role in helping his Dinos overcome UBC in the first round of the Canada West quarterfinal. The Caps have until the 1st of July 2013 to sign him, or they will reacquire the seventh-round pick they gave Nashville to get him.
Mattias Sjögren
C – Färjestad (SEL) – 24
It must be said, Mattias Sjögren's performance has been decidedly underwhelming since he returned to his native Sweden in December. In his February, he appeared in nine games, recording just one assist. Sjögren may or may not get another chance to prove himself in Washington this summer, but if his performance of late continues, it seems unlikely.
Steffen Søberg
G – Manglerud Star (GET-Ligaen) – 18 
It's difficult to have too high expectations from a player playing for the second worst team in the league, and, considering, Steffen Søberg has done relatively well this season. This month, Søberg appeared in seven games, posting a .896 save percentage and a 3.83 goals against average with two wins. While there is little doubt that Søberg is the star of his team, a draft pick of his ability and his potential should really be playing at a higher level. His CHL rights belong to the Western Hockey League's Swift Current Broncos, and that could well be where the Norwegian finds himself next season.
Patrick Wey
D – Boston College (NCAA) – 20
Patrick Wey had a tough month of January after returning to action from a tendon injury suffered earlier this season, but in February he was nothing short of phenomenal. In seven games, Wey scored one goal, had one assist, and was a whooping +10, playing a major role in bringing his BC Eagles seven straight wins. A junior, Wey is still a couple of years away from any action with the Caps, but fans should be very excited about the prospects surrounding this Pittsburgh-native.
For all the latest news on the Washington Capitals prospects, follow @CapsProspects on Twitter.