Washington Capitals February Prospect Update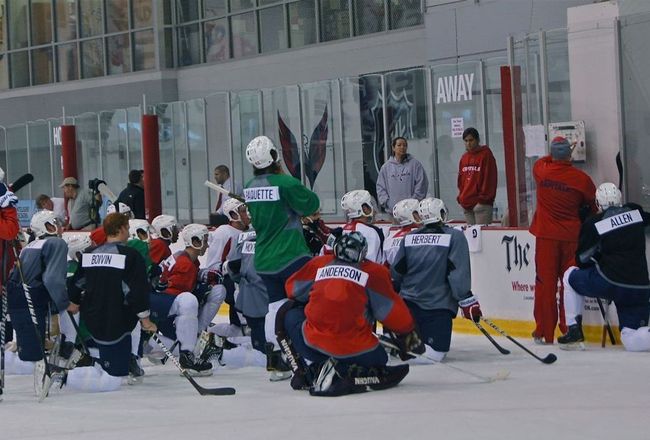 Brandon Anderson
G – Brandon Wheat Kings (WHL) – 19
Brandon Anderson, in the midst of a very rough season, appeared in eight games this month for his Brandon Wheat Kings, winning two games while posting a bloated 5.76 goals against average and an ugly 0.872 save percentage. In 27 games with the Wheat Kings this season, Anderson now has a 4.19 goals against and a 0.885 save percentage. A goalie of great potential, Anderson has struggled with bouts of inconsistency in his short career, and if he ever wants to one day reach the NHL, he'll need to smoothen out his play.
Greg Burke
C – University of New Hampshire (NCAA) – 21
Junior Greg Burke, who is enjoying somewhat of a breakout season for the University of New Hampshire, had a tough month. He appeared in seven games, going pointless and -4 as the Wildcats lost four out of seven to drop to 9-14-2. Burke now has three goals and four assists through 22 games, but is getting top-six minutes and plenty of special teams duty for his UNH. A 6th round pick from 2008, Burke will need to improve in the backend of this season and in his senior year if he wants to earn a contract with the Caps.
Travis Boyd
C – University of Minnesota (NCAA) – 18
Travis Boyd, a freshman with the University of Minnesota Golden Gophers, also had a difficult month, as he went scoreless and -1 in six games before being made a healthy scratch in the team's last match of the month. A two-way center with decent offensive upside, Boyd has been useful in a bottom-line role with the Gophers, but more offensive contributions are needed if he is to stay in the lineup on a nightly basis. Boyd now has six assists in 24 games in his rookie NCAA season, and is still looking for his first goal.
Samuel Carrier
D – Baie-Comeau Drakkar (QMJHL) – 19
Sam Carrier continued his red-hot season, as he appeared in nine games this month, scoring two goals and adding three assists. The Varennes, Quebec native now has 10 goals and 28 assists through 43 games, numbers that place him in eighth in points among all Q defenseman. Carrier, who is eligible to turn pro next season, is solidifying his place as an elite prospect for the Capitals in the offensive defenseman category, and, should his impressive play continue, Caps fans should expect to see Carrier contributing at the NHL level sooner rather than later.
Stanislav Galiev
LW – Saint John Sea Dogs (QMJHL) – 20
Stanislav Galiev, who celebrated his 20th birthday on the 17th of January, spent another month on the sidelines. The Russian winger, who has appeared in just five games this season (3 goals - 3 assists, minus-3), has not played since early October with a broken wrist. That said, February is the month he is expected to return for the Memorial Cup winners, and we could well see him back in the lineup before March dawns.
Andrew Glass
LW - University of Carleton (CIS) - 21
Andrew Glass, who was cut from Boston University a year ago for missing an informal team workout when studying for exams, has put himself back on the prospect radar after being recruited by the University of Carleton Ravens. In nine games, Glass, who wears number eight, has two goals and six assists for eight points. The forward, who would have been in his senior year at BU, is lighting up the Canadian college sports system, and, if he continues to dominate as he is now, will make it hard for Caps GM George McPhee to ignore him.
Garrett Haar
D – University of Western Michigan (NCAA) – 18
Defenseman Garrett Haar kicked off the month on the injury list for the UWM Broncos, after sustaining a concussion that kept him out of five games. Consequently, Haar appeared in just four games this month, in which he was pointless and -3. Through his 23 games this season, Haar was one goal and five assists, just fine for a freshman defenseman on one of the NCAA's better teams.
Caleb Herbert
C – University of Minnesota-Duluth (NCAA) – 20
Caleb Herbert continues to light the NCAA on fire. The center, who has played a lot of left-wing this season, appeared in eight games this month, scoring three goals and adding four assists to bring his phenomenal rookie point numbers to 10 goals and 13 assists through 26 games. The numbers Herbert has managed are virtually unheard of for rookies in the NCAA, and he is quietly establishing himself as a legitimate blue-chip prospect in the Capitals organization.
Patrick Koudys
D – RPI (NCAA) – 19
Playing on a struggling team is never easy, and considering the circumstances, Patrick Koudys is performing relatively well. This month was especially good for Koudys and his Renssaeler Polytechnic Institude, as they went 4-3-1 to improve to a 7-18-1 record, with Koudys appearing in seven games, recording one assist and posting a very respectable plusminus of +2. When he is at his best, Koudys is a big and strong defensive defenseman. That's what the Caps drafted him to be, and that's what he was this past month.
Evgeny Kuznetsov
RW – Traktor Chelyabinsk (KHL) – 19
At this point, there is no doubt about the fact that Evgeny Kuznetsov is going to be a truly phenomenal NHL player. The only question is, how good can he get? Zhenya appeared in nine games in January, scoring an outrageous six goals and adding six assists to bring his season totals to 18 goals and 18 assists in 41 (along with a +6). He has already eclipsed his point totals from a season ago, and seems to be getting better every game. King Kuznetsov has a very bright future in Washington.
Nick Larson
RW – University of Minnesota (NCAA) – 23
Nick Larson, linemate of Travis Boyd, went pointless and even in three games in January before going down long-term after undergoing wrist surgery. The senior, who celebrated his 23rd birthday on the 16th, is out indefinitely.
Taylor Stefishen
LW - University of Calgary (CIS) - 21
Taylor Stefishen continued his assault on Canadian Interuniversity Sport this month, scoring four goals, adding three assists and going +5 in his eight games. The Dinos forward, who the Caps acquired this summer from the Nashville Predators for a conditional seventh-round pick in 2013, now has 11 goals and 10 assists in 21 games and has posted an impressive +11. The Caps have until the 1st of July 2013 to sign him, or they will reacquire the draft pick they gave up.
Mattias Sjögren
C – Färjestad (SEL) – 24
Mattias Sjögren, who impressed upon his return to the Swedish Elitserien, had a tough month of January. He appeared in 10 games with Färjestad, scoring just one goal and adding one assist to bring his season totals to three goals and four assists through 16 games. While his contract with the Caps is still intact, his future with the organization is in doubt, and he could be a big trade chip come the NHL trade deadline.
Steffen Søberg
G – Manglerud Star (GET-Ligaen) – 18 
You shouldn't expect too much from a team that is second-to-bottom in any league, and, considering that is the case with the GET-Ligaen's Manglerud Star, goaltender Steffen Søberg has performed impressively well. Søberg, who rejoined his hometown team in late 2011, appeared in eight games this month, posting one win (a shutout), a respectable 3.96 goals against average, and a solid .906 save percentage. A player of Søberg's caliber really should be playing in a better league, and if the Caps' top pick in 2011 wants his NHL dream to become a reality, he may have to find himself a new challenge
Patrick Wey
D – Boston College (NCAA) – 20
Patrick Wey, who has missed much of the season with a gruesome severed tendon in his ankle, played all seven games for the Boston College Eagles this month, but was held without a point and went -5. While his stats may not show it (15 games, 1 assist) Wey is a pivotal part of the Eagles defense, and his presence was sorely missed. The junior continues to be one of the better defensive defenseman in the entire NCAA, and he very much has a future with the Washington Capitals.
For all the latest news on the Washington Capitals prospects, follow @CapsProspects on Twitter.