Washington Capitals Prospect Update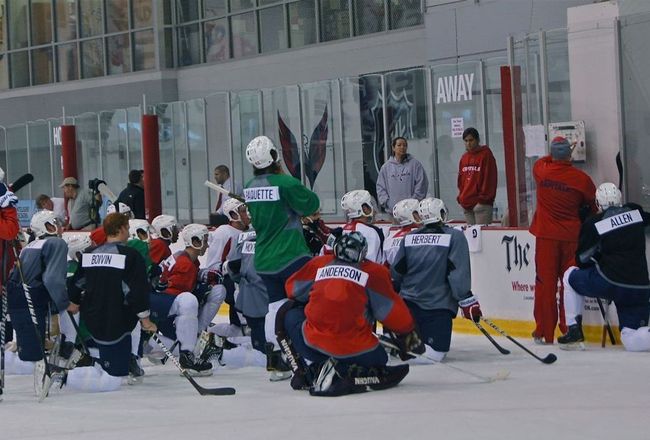 Brandon Anderson
G - Brandon Wheat Kings (WHL) - 19
Anderson, who the Caps signed after he impressed with a training camp invitation in 2010, hasn't had the best start to the season. The subject of an early-season trade from his former team the Lethbridge Hurricanes, Anderson has struggled somewhat with the Brandon Wheat Kings, managing just a 3.02 goals-against-average and a .878 save percentage. He'll need to improve his play to make the Caps' trust in him worth it, or he is in danger of maxing out as a career minor-leaguer.
Greg Burke
C - University of New Hampshire (NCAA) - 21
It would be an understatement to say Greg Burke has had a difficult start to the season. He has struggled with injuries somewhat, and has spent time on all four lines. However, he has still managed a pretty impressive one goal and four assists through 12 games, and appears to have settled in as the Wildcats' second-line center. The 6'3", 205 lbs junior has good upside as a power forward, but could max out as a bottom-line AHLer. The Caps' 2008 6th-round pick will need to have a strong senior season to earn a contract with the Capitals.
Travis Boyd
C - University of Minnesota (NCAA) - 18
One of the youngest players drafted at the 2011 draft (6th-round), Travis Boyd is off to a phenomenal start to the 2011-12 season. Though he has yet to score for his new team, the freshman center has posted five assists through the first 14 games of his college career, and it has not been a rare sight to see him working on the first-line. Boyd had already impressed at the Capitals Summer Development Camp, and is certainly making a name for himself in the NCAA. Right now, it looks like Boyd might turn out to be a late-round steal for the Capitals.
Samuel Carrier
D - Baie-Comeau Drakkar (QMJHL) - 19
Few players have had as encouraging starts to the 2011-12 season as Sam Carrier of the Baie-Comeau Drakkar. Having endured a challenging offseason with the folding of his former team, the Lewiston Maineiacs, Carrier has quickly established himself as QMJHL's premier offensive defensemen with 23 points (five goals) through 24 games. If he continues his encouraging development, the 2010 6th-rounder projects as a good third-pairing defenseman and a powerplay specialist.
Stanislav Galiev
LW - Saint John Sea Dogs (QMJHL) - 19
Stanislav Galiev, the Caps' 2010 3rd-rounder, was off to a strong start to the 2011-12 season before word broke of a serious wrist injury he had sustained during Capitals' training camp. The 64-game, 65-point man of a season ago had already managed three goals and three assists through six games. The fact that he played through an obvious injury for six full games speaks volumes about the 19-year-old's toughness and dedication, and Caps fans should be excited about him. He is expected to return to action in mid-January.
Garrett Haar
D - University of Western Michigan (NCAA) - 18
A 2011 7th-rounder, Garrett Haar is off to a positive start to his college career. The 18-year-old, currently a member of the Western Michigan team, is a defense-first defenseman, who has established himself as one of the better players on the Broncos' back-line. That said, he has also contributed well offensively, potting a goal and adding four assists through his first 14 games. He was impressive at Development Camp, and put himself on the map as a solid prospect. If he continues to develop well, he could very well find himself being part of the Caps' d-corps somewhere down the line.
Caleb Herbert
C - University of Minnesota-Duluth (NCAA) - 20
The Caps' 2010 5th-rounder is off to a roaring start to the 2011-12 season. The freshman has settled in tremendously well at the University of Minnesota-Duluth, having posted six goals and eight assists in 14 games so far. His versatility has served him well, as he has frequently seen time on the left-wing of the Bulldogs' first line. He is becoming a fine NHL prospect, and could well see time with the Caps somewhere down the road. With three-and-a-half seasons still to go in his college career, Herbert is turning heads, and after his impressive start nobody knows just how high his ceiling might be.
Patrick Koudys
D - RPI (NCAA) - 19
Koudys, one of the older players to be drafted at the 2011 draft (5th-round), is turning heads in what is his sophomore season with Rensselaer Polytechnic in the NCAA. A player with great size (6'4", 210 lbs) and a defense-first mentality, Koudys has been one of the few bright spots in RPI's dismal season so far. His aforementioned size already gives him up a step up on most of is fellow NHL hopefuls, but Koudys will need to round out his game if he wants to reach the big leagues. At just 19, he will have plenty of time to do so.
Evgeny Kuznetsov
RW - Traktor Chelyabinsk (KHL) - 19
To put it simply, Caps fans should be very excited about the development of Russian winger Evgeny Kuznetsov. After setting all sorts of records in his second KHL season, 'Kuzya' is performing even better so far in 2011-12. Playing on a winning Traktor team, Kuznetsov has posted 12 goals to go along with 10 assists through his first 28 games, establishing himself as a key player for his hometown team. There have been doubts about his NHL plans, but the 2010 1st-rounder pretty much quashed those fears in a recent interview with a local newspaper: "The contract is ready, you just need to sign it. But I'm not in a hurry. I want to finish the season with Traktor."
Nick Larson
RW - University of Minnesota (NCAA) - 22
A 2007 7th-rounder, Nick Larson is the oldest player on this list. He is in his senior season with the University of Minnesota, but has recorded just one goal and one assist through their opening 13 games. He has failed to become a significant contributor for the Golden Gophers, and his future with the Washington Capitals organization is very much in doubt.
Steffen Soberg
G - 18
Things are not looking good for Steffen Soberg. The 2011 4th-rounder, whose strong play in the Norwegian GET-Ligaen and the World Juniors last season encouraged the Caps to take a chance on him, has yet to play a game this season, not because of injuries, but because of indecisiveness. The Caps want him to join the Swift Current Broncos of the WHL, who drafted in 6th overall in the CHL Import Draft, but he would prefer to remain in Scandinavia. Soberg needs to make his mind up soon if he is to save his NHL dream.
Taylor Stefishen
LW - University of Calgary (CIS) - 21
Stefishen, a 2008 5th-rounder for the Nashville Predators, was acquired by the Caps this summer after a solid season with the Prince William Cougars of the WHL. This season Stefishen has spent with the University of Calgary Dinos, where he has posted 11 points through nine games. The Caps have until the end of this season to sign him, or he will become a free agent.
Patrick Wey
D - Boston College (NCAA) - 20
Much like Stanislav Galiev, Boston College's Patrick Wey suffered an unfortunate injury early on in the season that will keep him out long-term. On October 22, Wey had his severed an ankle tendon, an injury that is expected to keep him out for another three or four weeks. An effective shut-down defenseman, Wey was developing well with the Eagles, emerging as one of their more important players over last season. A junior, he is likely to join the AHL's Hershey Bears after next year. He has good NHL potential a little bit down the road.
For all the latest news on the Washington Capitals prospects, follow @CapsProspects on Twitter.