Washington Capitals January Prospect Update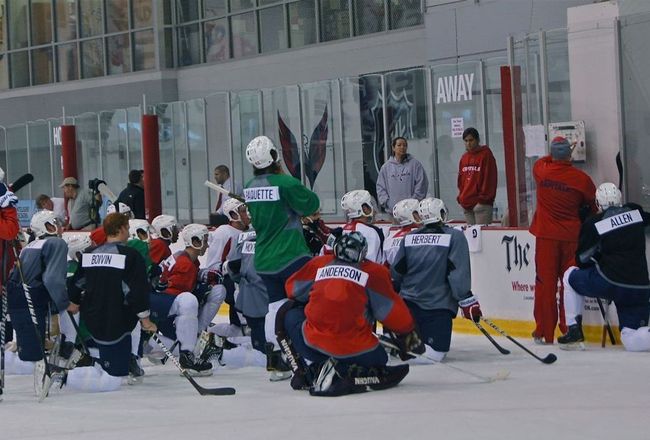 Brandon Anderson
G – Brandon Wheat Kings (WHL) – 19
Brandon Anderson has not had the best season so far, but he had a much better month of December. In seven games, Anderson posted a somewhat bloated 3.99 goals against average (a number more telling of the quality of the team than the quality of the goalie), and a decent .897 save percentage. The numbers aren't phenomenal, but they are a big improvement over his season numbers, a 4.03 GAA and a .889 SV%. The Wheat Kings' other goalie, Corbin Boes, was injured on December 8th, and remains out indefinitely with a broken hand. It is vital that Anderson steps up his game if Brandon want a chance to advance to the playoffs.
Greg Burke
C – University of New Hampshire (NCAA) – 21
Greg Burke had a tough start to the season. This past month was a short but good one, as Burke only appeared in three games but scored two goals. The Lee, New Hampshire native now has three goals and four assists through 15 games on the season. Burke will miss most of January after having surgery on a dislocated finger, and New Hampshire will miss him. He has established himself as an important top-six forward for the Wildcats, something Caps management can only take as a positive sign.
Travis Boyd
C – University of Minnesota (NCAA) – 18
The youngest player on this list, Travis Boyd has spent time on all four lines for the University of Minnesota. This month, Boyd played in four games for the Golden Gophers, recording just the one assist. Through 18 games of the 2011-12 season, Boyd has scored no goals but has six assists, perhaps not the best numbers but impressive ones nonetheless for a Freshman playing on one of college hockey's top teams. Boyd is only getting better; look for him to break the duck soon.
Samuel Carrier
D – Baie-Comeau Drakkar (QMJHL) – 19
Sam Carrier continued his phenomenal season, appearing in ten games for his Baie-Comeau Drakkar and scoring three goals and adding seven assists for a perfect point-per-game pace. He now has eight goals and 25 assists in his 34 games, and a player who was once considered a fringe prospect is now emerging as a high end prospect. With every game, Carrier is improving, and he will undoubtedly be in the organization next season, whether it be with the Hershey Bears or the South Carolina Stingrays.
Stanislav Galiev
LW – Saint John Sea Dogs (QMJHL) – 19
Stas Galiev missed all month with a broken wrist. The Russian, who has three goals and three assists through five games, is itching to return to the lineup, and his wish could well be granted soon. Galiev is expected to return in early January, and will without a doubt return to the Memorial Cup winners with a bang.
Garrett Haar
D – University of Western Michigan (NCAA) – 18
Garrett Haar keeps turning heads after another solid week. The freshman appeared in five games for the Broncos, recording an assist while racking up a plusminus of +3. The defenseman, while not the most offensively potent blueliner around, has a pretty good one goal and five assists through his 19 games, and is starting to show signs that he has the potential to blossom into an effective two-way blueliner. One thing is certain: The Caps are mighty happy they picked up Haar just five picks away from the conclusion of the 2011 draft.
Caleb Herbert
C – University of Minnesota-Duluth (NCAA) – 20
No player has been more impressive this season than Caleb Herbert. The center, who has played mostly left-wing, appeared in just four games, scoring a goal and adding an assist to his totals. The Bulldogs freshman is off to a roaring start in his college career, and now has seven goals and nine assists through 18 games. The St. Paul, Minnesota native is establishing himself as an integral player in the lineup of the NCAA's best team, and has Caps General Manager George McPhee and his team very excited about what might lie ahead.
Patrick Koudys
D – RPI (NCAA) – 19
Defenseman Patrick Koudys is one of the few players on this list who isn't performing as well as Caps management had hoped. This month, Koudys appeared in three games for RPI, going pointless and -5, and was most recently made a healthy scratch by Rensselaer coach Seth Appert after what Appert described as "an abomination" of a performance in the team's 7-2 loss to UMass Lowell. The sophomore is one of only two NHL draftees on the abysmal (their record is 3-15-0) RPI roster, and might be well served transferring to a better hockey program if he wants his NHL dreams to become a reality.
Evgeny Kuznetsov
RW – Traktor Chelyabinsk (KHL) – 19
Evgeny Kuznetsov is good. He is really, really good. He had another good month, appearing in four games for the KHL's Traktor Chelyabinsk, recording two assists in those games to bring his season totals to 12 goals and 12 assists in 32 games. Perhaps most impressive has been Kuznetsov's performance at the World Junior Championships, where the Russian team's captain has scored three goals and six assists for nine points in four games. All of those came in a 14-0 victory over Latvia, where Kuzya's nine points came within one of equalling Peter Forsberg's WJC record of ten points in a game.
Nick Larson
RW – University of Minnesota (NCAA) – 22
Winger Nick Larson appeared in five games for the Golden Gophers this month, scoring two goals to bring his season total to three. Though he has been Travis Boyd's linemate pretty much all season, his future with the Washington Capitals is very much in doubt, and unless the 22-year-old picks up his game significantly in the upcoming months, odds are he won't earn a contract with the Caps when he graduates this summer.
Mattias Sjögren
C – Färjestad (SEL) – 24
On the 30th of November, Mattias Sjögren decided to leave the Hershey Bears and rejoin his Swedish team, Färjestad. Having signed with the Caps this summer, he had failed to make the team and decided he would be better off playing in the Swedish Elite League than in the AHL. While his departure was far from seamless, Sjögren remains a Caps prospect, and is certainly impressing back home. Through six games with Färjestad, Sjögren has two goals and three assists, numbers that put him on track to easily eclipse his 24 points in 51 games from a season ago. If he continues to play like this, it's hard to imagine the Caps won't invite him back next summer.
Steffen Soberg
G – Manglerud Star (GET-Ligaen) – 18 
Steffen Soberg's nightmare appears to be over. The Swift Current Broncos, who drafted him in the WHL Import Draft, agreed to let him rejoin his old hometown team, the Manglerud Star, of Norway's top league, the GET-Ligaen. Through two games, Soberg has managed a 4.20 GAA and a .896 SV%, awful numbers at first glance, but ones that are sweetened when you take into consideration that he is 18 and playing for the dismal Star. Soberg's NHL dream is back on track, but there is a good chance the Caps ask him to sign with a team in the Swedish Elitserien soon rather than stay in the decidedly average Norwegian league.
Patrick Wey
D – Boston College (NCAA) – 20
Patrick Wey missed most of the month with a severed tendon in his ankle, but returned late in the month to make an appearance for the BC Eagles at the Great Lakes Invitational. In two games, Wey took five shots, going pointless and even as his Eagles finished third in the tournament. The Pittsburgh-native, who plays a no-nonsense defensive game, has one assist through eight games this season, and is establishing himself as a top level prospect for the Caps. There is little doubt he will see time with the big league team somewhere down the road.
For all the latest news on the Washington Capitals prospects, follow @CapsProspects on Twitter.