A Peek Back Into the Bad Old Days
DISCUSS THIS IN OUR REDSKINS FAN FORUM
Return with me now to the days of Snyderrato, just for a few minutes. I promise -- you won't have to stay long. You won't go insane. You won't lose your lunch or dinner or whatever meal you've recently shoveled down your throat. Just spend a few moments peeking back into the recent past, when a local mogul with a Napoleon complex was busy running the Redskins into the ground -- a grave from which they are still struggling to emerge.
Seth Wickersham of ESPN the magazine has a very interesting article about Washington Redskins owner Dan Snyder and his bitter fight with former City Paper writer Dave McKenna, author of the Cheap Seats sports column and, like Snyder himself, a diehard Redskins fan. The center piece of the article is something McKenna wrote in the City Paper -- "The Cranky Redskins Fan's Guide to Dan Snyder" back in the fall of 2010. A photo of Snyder in the article showed him with drawn-on devil horns and a sinister mustache. The article itself recounted Snyder's many failings with the Redskins, his arrogant and high-handed attitude towards many, especially fans, and his insistence on using every means at his disposal to wring every last penny out of the bank accounts of those fans.
Snyder was furious, though he later admitted he never even read the article. He sued the City Paper and McKenna, asserting the photo caricature was anti-Semitic [Snyder is Jewish] and the article was filled with inaccuracies and irrelevancies. The suit had no merit, as I and many others noted at the time, and Snyder eventually dropped it without claiming a dollar or even so much as an apology from McKenna or the City Paper.
What interested me most about the Wickersham's article in ESPN the magazine, though, was what it tells us about what was going on with the Redskins before Mike Shanahan and Bruce Allen arrived to restore some sense and order to the franchise. [They haven't restored winning, but I guess we can't have everything.] The anecdoetes Wickersham provides in the article won't really surprise you, but they are very useful in illustrating why the Redskins failed so badly during Snyder's first dozen years as owner and why it is so important that he never take a strong hand in personnel decisions ever again.
Snyder has committed every ownership sin. Early on, he didn't give coaches any slack. All along, Snyder allowed the perception to permeate that players -- Portis, most noticeably -- ran the team. When the Redskins won, the notion was funny. If Gibbs, the Hall of Fame coach who returned from 2004 to 2007, couldn't get something he wanted, such as a practice bubble, he would say, "Clinton, go talk to Dan!" But the jokes ended when the team lost. With Zorn, Snyder confided in Vinny Cerrato, then-executive vice president of football operations, like a therapist and hung his coach, whom he had hired only after whiffing on other candidates, out to dry. Portis and other players disliked Zorn, and they took their complaints about his playcalling and his arbitrary rules -- such as insisting that Portis remove his hands from his pockets during practice -- over his head, down the hall to the corner office. "Dan gave more say to the players than to the coach," one former starter says.
At the same time, Snyder was still molding the Redskins in his own image by appealing to players, such as Haynesworth, who were moved by money. As the point man in wooing star free agents, he would boast over bottles of Opus One about his Super Bowl parties with Tom Cruise, remind players that his company produced the Golden Globes, in case they wanted to attend, and offer use of his jet -- emphasizing that it was a $50 million Global Express. Need a dinner reservation? Call his secretary. Need a lawyer? He'll handle it. Just worry about football. ...
Watching games from his private box, Snyder would cuss and second-guess plays, unblinkingly huffing past people. "You want to stay out of his way," says anchor Chris Wallace, a frequent guest. After losses, Snyder would stay until 4 a.m., pounding drinks, downing burgers and pizza and blaming himself for being, in the words of a friend, "his own worst enemy." When public outrage grew so vicious that Snyder temporarily banned signs at FedEx Field in 2009, Redskins officials tried to help him restore his image. One staffer suggested that he drop in on tailgates to remind fans that, in his heart, he was one of them. "No, no, no. I don't need to tell them how much I love the Redskins," he replied. "I'm an owner." A friend advised Snyder to open up about his suffering after losses: "And Dan said, 'I'm angry sometimes, and I'm over the top, and I don't want to admit that.' Why not, Dan? You're a Redskins fan and you can't control it."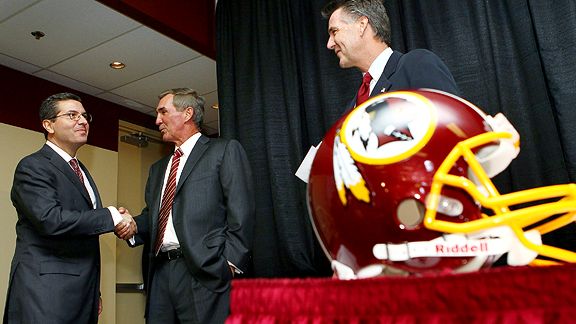 The fan revolt of 2009, which saw masses of empty seats at Redskins home games for the first time in decades, was apparently a wake-up call for Snyder. Initially, Snyder tried to hit the snooze button, banning banners at the stadium if they were uncomplimentary towards him, but public displeasure was too obvious, as fans repeatedly chanted "SELL THE TEAM" at Snyder's luxury box during one dismal loss after another. Snyder was forced to step back from the team, in spite of his wishes.
His way didn't work, and he told associates, "I'm gonna get this right." Last spring, after the Redskins -- going big, as always -- traded three first-round picks and a second-rounder to St. Louis to draft Robert Griffin III, the team brass hosted the quarterback's family at a Waco, Texas, steak house. Robert Griffin II, RG3's father, expected Snyder, owing to his reputation, to run the show. Instead, Snyder steered the conversation away from himself so that the quarterback could chat with Shanahan. "He ceded authority at the table," says Griffin II. "He basically said, 'Coach, make sure you talk to Robert.' He wasn't trying to be overbearing."
Snyder was selling his coach, not himself. He was offering football, not perks. He was being an owner, not a general manager. "He's realized that it's not good business to be interfering or perceived to be interfering," says a friend.
This is the owner the Redskins need. Snyder may never deign to treat the fans as anything other than wallets with legs, but if he has genuinely stopped seeing himself as an NFL general manager -- forever! -- then the Redskins are probably already a normal NFL franchise. [If still not a good team.] What matters the most to me is that we never return to the bad old days of an impetuous owner with the temperament of an inebriated fan stumbling out of the stadium after a home loss... making personnel decisions for an NFL team.