Free Agency: The Squeeze Continues
The NFL has long been a year round proposition, but the league continues to improve the off-season marketing and presentation to keep the sport center focus, despite what the calendar says traditionally. Free Agency "pre-game" is underway, a three day period where clubs can "tee up" potential targets and gain momentum for the start of the NFL calendar year this week. Not only does free agency open up full steam, but teams may trade or announce, or make official deals that had been negotiated behind closed doors. (Alex Smith deal is an example)
Labor strife several season ago necessitated the league hold free agency prior to the NFL draft. Well, everyone liked the new order of battle so much that it has become annual standard procedure. I like having free agency first as it really gives you a full view of what your roster looks like prior to the draft. The make believe General Manager that I am likes the idea of taking a chance on that high risk/high reward draft pick knowing I have the reliable veteran I already secured during free agency to mentor the rookie and also serve as a fallback plan.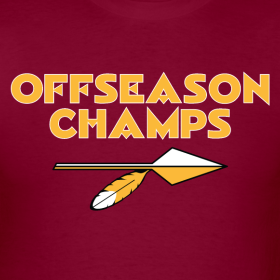 The Redskins used to dominate free agency to the extent that t-shirts were printed up to celebrate the off-season successes. Vinny Ceratto is gone and the owner doesn't "meddle" anymore, leaving a pair of seasoned veterans in Bruce Allen and Mike Shanahan to make informed personnel decisions. The days of Jeff George, Deion Sanders, Bruce Smith, Dana Stubblefield, Mark Carrier and the rest are as distant a memory as ridiculous parking fees to attend Redskins training camp.
Make no mistake, its great to have an owner with deep pockets. I don't know a single fan that would prefer a tight wad paying salaries (or not) for their favorite franchise. Despite cash to burn and the willingness to do so, Dan Snyder and his managers are facing their own form of sequestration, imposed upon the team by fellow owners. Flickers of a final challenge to the cap penalties linger, but it appears another $18 million hit is a near certainty.
The good news? Unless the team restructures too many of the wrong contracts and back loads tons of cash into next season, Washington should be in great cap shape moving forward following the two years of austerity. With the penalties ending, the team will enjoy roughly $20 million more to spend in 2014. Next year is also the final payment (1st round draft pick) in the Robert Griffin investment, so if management plays their cards right, they may well be positioned to take another big step forward as a franchise.
Projecting the draft is a tough task, projecting both free agency and the draft is a nearly impossible dynamic. With player moves "official" beginning on Monday, we will take an advance look, a preview of the decisions the 'Skins are facing on both offense and defense. It's no secret that what really is going to shape the 2013 Burgundy and Gold is which of the clubs own free agents can, and will be retained. When you have nearly 20 of your own needing a deal and you are already right at the cap limit, many changes are in store. While the government is faced with self-inflicted deductions, currently without flexibility, that is where the Redskins situation differs. While the $18 million dollar is a hard number, the Skins have plenty of wiggle room in how and who they keep.
Up next, we will provide an overview of what free agent decisions Kyle Shanahan is facing on offense.