Redskins Roundup: First among equals
"As soon as you start winning everything feels more realistic." -- Redskins WR Pierre Garcon
The Washington Redskins went into Cleveland yesterday and crushed the Browns 38-17. Who was the Redskins Player of the Week? Vote now in our poll in the upper right sidebar.
For more on the latest Redskins win, get the who, the how, the why and what it all means in The Fifth Quarter.
Get the latest updates on the Redskins injury situation. I'm particularly concerned about C Will Montgomery, who is having a terrific season. We will have more on the injury situation as the news comes in today.
What did the NFL pundits have to say about Washington's win over the Browns? Find out in our Monday Morning Pundit Report.
As a result of Washington's win in Cleveland, the Cowboys win over Pittsburgh and the Giants loss in Atlanta, the Redskins are in control of their own destiny for the first time since 1999.
Don't be shocked if that week 17 game against the Cowboys gets flexed out of Sunday at 1 PM to Sunday at 8.30 PM.
Who gets cheers and who gets jeers for their performances against the Browns? Check it out in Thumbs Up/Thumbs Down.
The Redskins scored 38 points -- tied for second-most on the season -- and threw for 329 yards -- highest on the season -- because rookie QB Kirk Cousins spread the ball around in his first NFL start.
Redskins DE Stephen Bowen sums up the playoff situation in one line.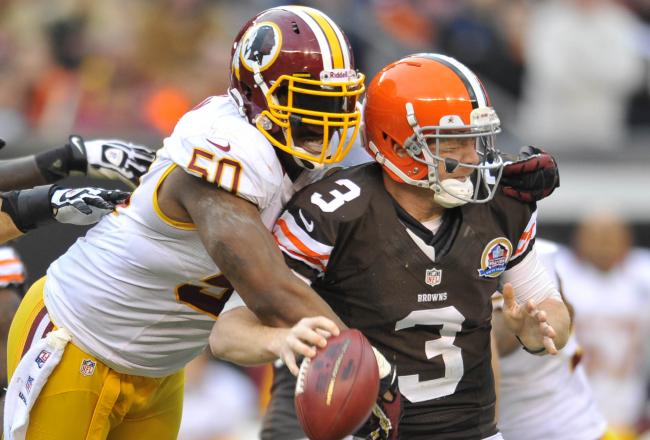 USA Today sports
With a sack, an interception, a tackle for loss and two passes knocked down, OLB Rob Jackson did it all last night for the Skins.
Rick Snider writes Kirk Cousins has proven he's a good backup plan for the Redskins. Former Redskins GM Charley Casserly thinks the Redskins can get at least a second round pick for Cousins right now. Maybe more.
"I'll tell you what, you've got a minimum of a second-round pick on the table, I think," Casserly said Sunday evening. "I think if you can work it — and Bruce Allen's a terrific trader — if you can work it, you might be able to pull two No. 2s out of this thing.
"Now what you're gonna need is a team that needs a quarterback," he continued. "That's simple. I just wrote down Buffalo, Arizona, the Jets and Kansas City — four teams right there. You've got to have a team that liked him in college, because he hasn't played a lot. But there ought to be enough people that [did]. And then when you look at this draft, there are not a lot of quarterbacks that are gonna jump out to you.
"Kansas City and Arizona, you're talking about top five picks," Casserly said. "If they don't want to take a quarterback that high — which they probably don't — now do I feel more comfortable with a Kirk Cousins, who I liked in college? I've seen him play in the pros. He plays another game like this, hey, I'm gonna give up a second [rounder], not even batting an eye. Now I'm gonna get squeezed by the Redskins, and maybe I'm gonna give up two, like the Matt Schaub trade to Houston. So they've got a shot right now to start regrouping some things."
I have the latest on the legal and medical situation of London Fletcher's relatives. Check it out.
This probably won't make Donovan McNabb happy, but offensive coordinator Kyle Shanahan is getting some head coach chatter:
"If Kyle Shanahan delivers a win with a backup quarterback – a backup rookie quarterback – he shows the rest of the NFL he is ready to be a head coach and take the next step," the NFL Network's Michael Lombardi said during Sunday's pre-game show. "What he has done with Robert Griffin III is remarkable, but we knew Griffin had talent. If he does it with Cousins, then all of a sudden all those teams who will be looking for a head coach soon are going to take notice."
Dan Daly writes that Washington's 5-game winning streak is amazing and hard to understand:
Stranger still, the Redskins are doing it in a way no NFL club has ever done it. "They don't expect rookie quarterbacks to win in this league," Garcon said, "but we're doing it." They did it for 13 games with first-round-pick Robert Griffin III, who sat out the Cleveland game — restlessly — with a sprained right knee; and they did it Sunday with fourth-round-pick Cousins, who didn't know for sure he'd be starting until the quarterbacks meeting the night before.
Before friends and family, the Redskins' "other" first-year QB, pride of Holland, Mich., carved up the Cleveland defense for 329 passing yards, two touchdowns, a .703 completion percentage and a 104.4 rating. (RG3's rating for the season: a league-leading 104.2.) He threw an early interception that helped the Browns jump on top 7-0, but after that he and his mates got it going and there wasn't much the home team (5-9) could do to stop them.
"It shows you what the guy's all about," Shanahan said. "You've got to keep your composure [after a pick]. You've got to fight through. He's got a lot of confidence. You can see that in practice."
Seriously, regardless of whether the Redskins finish the season as division champs or out of the playoffs, this five-game winning streak is one for the ages. They have overcome significant injuries on both sides of the ball, including on Sunday, when they scored 38 points and gained 430 yards without star QB Robert Griffin III. Everything is working right now, and I don't think there's a team in the league the Redskins can't beat.
This team's perseverance is beyond impressive. It's a great indication of the high character in the locker room. Credit coach Mike Shanahan for assembling the roster with that as a priority. The finger-pointing at 3-6 was minimal; instead, there was determination.