Redskins Roundup: RG3, JPP & Madden speak
DISCUSS THE REDSKINS IN OUR FAN FORUM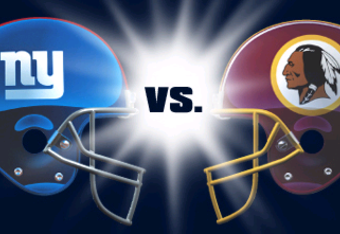 INJURY UPDATE: Your information is right here.
Great write-up by John Keim on the deception in the Redskins offense that leaves defenders guessing where the ball is going. Robert Griffin takes the snap and he might hand off to Alfred Morris or he might run himself or he might get it to Brandon Banks in the triple option formation. All the while, a receiver like Fred Davis is slipping down the middle of the field. It starts with the fake handoff to to Morris -- or is it a fake -- and you never know what happens after that.
"Guys are definitely getting free in situations, and we're hitting them in spots that normally teams don't hit receivers," Griffin said. "The whole objective is to create confusion. That's what every offense wants to do, and we're doing a good job of that right now. Once we do create confusion, we can do whatever we want to do."
The triple option look does that, but so too does the fact that Griffin doesn't rely on one receiver in particular. Perhaps that's a function of Pierre Garcon having missed three of the first six games. Garcon had a strong connection with Griffin in preseason games.
But with Garcon out, the passes have been spread around. The Redskins have three players with 16 receptions, and Davis leads the team with 23. Three others have at least eight. They're actually on the same pace as last year's team in terms of the number of players with at least 40 catches. But the Redskins also threw the ball more last season, too.
"Robert helps tremendously," Davis said. "And Alfred running the ball and everyone else making the plays they're making, it makes it hard to cover us. ... You've got to worry about so many different things."
Griffin has targeted nine players in four games, 10 in another and eight in the other. Only once this season has a receiver been targeted more than seven times (Leonard Hankerson with 11 vs. Tampa Bay). Coach Mike Shanahan said it's a byproduct of Griffin's ability to read defenses and not get locked on a particular player.
WR Pierre Garcon has no choice but to wait until his foot injury heals. In the meantime, the team gets nothing fro its big free agent signing.
Injured OLB Brian Orakpo, who won't play football until next year, thinks he let his teammates down.
Giants TB Ahmad Bradshaw was held out of practice with a foot injury. Seems most a precaution, though, so expect him to play.
Let's hope the Skins are watching out for Giants DE Jason Pierre-Paul 'cause he's really good. On offense, that Eli Manning dude, the one with two rings, is pretty good, too.
Speaking of JPP, he's begun the trash talk this week, telling RG3 he's in for some pain if he runs his way:
"We like to set the edges," Pierre-Paul said of containing the corners. "Yes, it'll be a very good matchup. Not on my side, though. Not on my side. Or the other side."
When asked about his side of the defense, Pierre-Paul responded: "Not on my side. Don't bring it on my side. Don't bring it. Go the other way."
"Don't come on my side, I told you that," he added. "Don't come to my side. Not my side."
JPP isn't impressed with RG3's speed either:
"Trust me, we chase quarterbacks all the time," Pierre-Paul said. "We turn and run to the guy no matter what. He may get past us and zoom right past us, but trust me, we're right behind him."
"You've got to respect [his speed and the Washington offense]," he added. "It's not all about the speed. We've got 11 guys who can run to the ball. You'd be surprised. Very surprised."
For his part, RG3 is aware of the dangers this week:
"You just have to realize that the edge pressure guys, that they do have are extremely talented," Griffin said. "Some have said, and I would agree, that they're one of the best D-lines, if not the best D-line, in the NFL. From that aspect, we'll try some things to alleviate some of that pressure."
Who is developing quicker as a pro quarterback, Robert Griffin III or Andrew Luck? The answer, according to Ben Alamar at ESPN Insider, is RG3:
There currently is a large difference between how these two throw the ball. For Griffin, 52 percent of his passes go for 3 yards or less in the air, while only 36 percent of Luck's are that short (league average is 42 percent). Again, this points to Griffin just making short, quick passes that artificially pad his passing totals, while Luck is actually airing the ball out -- but this might be part of Luck's problem and something he needs to adjust in his game.
Only 26 percent of Griffin's passes are 10 yards or longer in the air while 40 percent of Luck's are that long (league average is 30 percent), but that might be because Griffin is reading the defense and picking his spots more effectively than Luck. On those long passes, Luck has performed at the league average, completing 49 percent, while Griffin has completed 57 percent. Only Eli Manning (59 percent) and Alex Smith (59 percent) currently complete a higher rate of long passes than Griffin, while Luck's completion rate is comparable to Tony Romo (49 percent) and Philip Rivers (49 percent). In each category, Griffin is completing passes at or above the league average, which indicates he really is finding the right receiver at the right time.
Additionally, when looking at the sacks the two take, we get further evidence that it is Griffin who is doing a superior job of reading and reacting to the defense. Both QBs have been sacked 13 times, but the length of time a QB has before he gets sacked is an indicator of when he is getting sacked: Is he taking too long to get rid of the ball, or has the defense just overwhelmed the blocking scheme? Generally, if a QB holds the ball for more than 3 seconds, he is taking too long and significantly increasing his chances of being sacked.
Throughout the league, 70 percent of all sacks happen after the 3-second mark, and Griffin is right there with 69 percent of his sacks occurring at 3 seconds or more. Luck, however, has a higher rate with 77 percent of his sacks occurring after 3 seconds. Griffin's metric puts him in the same neighborhood as Peyton Manning (70 percent) and Matt Ryan (69 percent), while Luck's puts him closer to Mark Sanchez (79 percent) and Brandon Weeden (74 percent).
The stats show Luck takes longer to get rid of the ball than Griffin and throws the ball down the field a lot more than Griffin. This suggests Luck is pressing too much and not recognizing when to check down as quickly as Griffin is. Griffin, in part, is doing a better job of quickly recognizing when he has a good opportunity to go deep and when he needs to get rid of the ball. This gives Griffin the current edge as both players strive to fulfill the promise of the draft slots.
On this subject, I do a regular feature here at DC Pro Sports Report called Tracking the Rookie Quartebacks. Unlike this article above, it compares all five starting rookie quarterbacks, not just Griffin and Luck. Check it out.
John Madden said lots of nice things about Robert Griffin III on his Sirius radio show [via SportsBog]:
"He would scare the heck out of me," Pro Football Hall of Famer John Madden said of RGIII on SiriusXM's NFL Radio. "I'll tell you, any coach, any team, any defense, the one thing that you fear is speed – whether that guy is a running back that could break loose, whether he's a wide receiver that could get over the top or if he's a quarterback that can run like this guy.
"Did you see him last week?" Madden continued. "I mean, go down the sideline? I have never, in the history of football, I have never seen a quarterback ever run that fast. I know that that's what the Giants are thinking. I mean, they're looking at that and they're saying, whoo, or wow, or we can't let that guy do that to us. So that takes a lot away from your defense, whether it's real or imagined.
"A lot of time in life we defend ghosts," he continued. "You saw something a week ago and you're still out there holding your ground. When he hands off inside, you're waiting for him to run around the end. So I think that's going to be a problem with the Giants this week, real and imagined: They're going to have to worry about him. You have to worry about his throwing, and you have to worry about him as a quarterback, and then doggone, the thing that would scare me most about him really is that speed."
Later, Madden suggested that RGIII was helping to change our idea of what a pro quarterback should be.
"If he gets away from you on any type of scramble, he can just outrun anyone that you have on your team, and that is very, very scary," Madden said. "I think that's gonna be the pro quarterback style, I really do. If you go back and look at high school football, the way they play, and college football, the way they play, that's the type of quarterback that we're developing. And that's the type of quarterback that's gonna come into the league, and I think eventually that's gonna be the pro-type quarterback."