Redskins Roundup: Will the missing pieces be found by Sunday?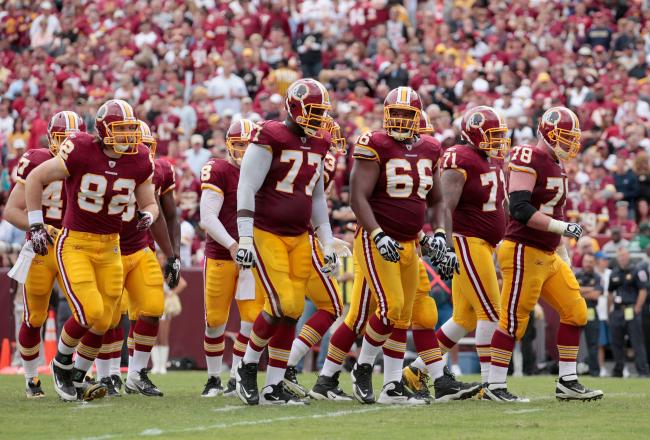 Rob Carr/Getty Images
The Redskins are movin' on up to heights they have never seen in The World's Most Prestigious Power Poll. We also have a roundup of where the Skins rank in the top 33 NFL power polls.
RG3 didn't play last Sunday so did he lose his top spot on the season rookie QB rankings to Russell Wilson? Find out by reading the latest edition of Tracking the Rookie Quarterbacks.
The Redskins can clinch a playoff spot this Sunday if they win and get some help. Here's how it happens. The New York Giants lose at Baltimore, the Chicago Bears lose at Arizona and Minnesota loses at Houston. I think the Vikings WILL lose in Houston and I think the Giants might lose in Baltimore. But the Bears lose in Arizona? I know the Bears are reeling, losers of five of their last six. And I know the Cardinals broke their 9-game losing streak last Sunday. But there is no way I can believe the Bears lose to the Cardinals. The Cardinals were practically invented to help struggling teams regain their confidence.
Robert Griffin III missed last Sunday's game in Cleveland, though he insists he could have and wanted to play. Will he play in Philadelphia this weekend? We don't know yet, though the first clues will come in today when Griffin practices with the team. How much he practices and how he looks will be our first hints about his availability this weekend. Some fans seem to be assuming Griffin will start, but Ed Werder of ESPN says he's talked to medical experts who say the injury Griffin suffered is a 3-week injury, at least.
The Redskins don't have a great offensive line, though LT Trent Williams and C Will Montgomery have both played at an All Pro level this year. What the Skins line has had is consistency, with the same five guys starting every game this year. That could end on Sunday in Philadelphia, with Montgomery struggling with a sprained knee and RT Tyler Polumbus trying to recover from a concussion. Jordan Black's suspension complicates a bad situation.
Mike Shanahan is now confident that his team has made real progress since he arrived in 2010. It blood well should have.
Offensive Coordinator Kyle Shanahan explains how and why the Redskins read-option offense is working so well:
Kyle explains that the offense forces defenses to account for 11 players rather than 10, since the quarterback is part of the play. This opens up things everywhere else on the field. Washington runs, by Kyle's count, about nine plays per game off the read-option and the threat it creates. And when the Redskins are running it -- not playing off it -- an extra gap is created. It plays the angles and is built to put defensive guys in bad spots, which, he reminds, is offensive football.
Kyle concedes it can't be all you do in the NFL. But it can be an important element, so long as you can keep your quarterback upright.
"We don't want Robert to get hit, but the thing I've noticed is that people notice when he gets hit running the ball," Kyle Shanahan said. "But they don't realize how violent it is in the pocket. ... He doesn't get hit like (Matt) Schaub did or Rex (Grossman) did. Robert will do that (dropback) stuff, but with the threat of the zone-read, and the fact that he's not sitting there, defensive linemen aren't teeing off on him. It's not the same."
Still, to make it work, the Redskins have built in rules for Griffin. In scramble situations, he's only to run when he's not accounted for by the defense. And in most of those spots, he's told to use the angles and run to the sideline. They're coaching him to slide some, and get out of bounds more -- on option plays, too.
Kyle Shanahan also mentions that Griffin's two injuries this year came on scrambles, not designed runs.
TB Alfred Morris has set franchise rookie records with 1322 rushing yards and 9 TD. He's only 194 yards shy of the season rushing record of 1516 yards set by Clinton Portis back in 2005. Mike Shanahan deserves some of the credit for that.
"His blocking is scheme is perfect and ideally suited to run the ball effectively," ESPN NFL draft analyst Mel Kiper Jr. said. "It doesn't matter who the running back is. The running backs historically in Shanahan's offense, be it in Denver or in Washington, have been outstanding. That's not to take away from the ability of these guys. They obviously have ability. But all these guys that weren't highly regarded are putting up numbers."
Portis seems fine with Morris breaking his record, if that happens:
"I'm actually rooting for him," Portis told Holden Kushner and Danny Rouhier on 106.7 The Fan. "In my eyes, records are kind of meant to be broken. And just to even have the luxury of having it [was meaningful]. I think Alfred Morris is a class act, a young guy who came in and handled things properly and did it the right way. You never really hear him boast and brag about his accomplishments. And I think a lot of it is overshadowed by the great play of RGIII, but I think what they're doing as complimentary players to one another is great for the city."
Rich Tandler runs through some of the numbers on defense:
Earlier this year the Redskins were on pace to give up more passing yards than any other team in NFL history by a wide margin. They are no longer threatening the record book but they still have their issues in pass defense.
They have given up 3994 yards passing so far this year. That is the fifth-highest total ever through 14 games.
The Redskins do have company at the bottom of the all-time list. This year's Saints have given up 4018 yards through the air and the 2012 Bucs have allowed 4349 yards, the most ever at this point in the season. When all is said and done, this could be a record year for passing.
The Washington rushing defense is better, ranked sixth in the NFL. That certainly is due at least in part to the fact that opponents don't bother running against them because of the success that can be had going at them through the air. The Redskins defense has faced just 319 rushing attempts, the second fewest in the league.
But they can make a solid claim regarding Adrian Peterson. The Vikings running back is an MVP candidate and could break Eric Dickerson's record for rushing yards in a season. When the Redskins faced the Vikings in Week 6 Peterson gained 79 yards on 17 carries. In eight games since then Peterson has not been held to under 100 yards in a game and has been held to fewer than 150 yards just twice.
Tandler also has some good stuff about how Pierre Garcon remains the favored wideout of Redskins quarterbacks, London Fletcher's play has improved recently and Rob Jackson has been making big plays at linebacker.
John Keim asks some good questions about Washington's upcoming game in Philly. Among other things, Keim wants to know if RG3 will play and what sort of shape will the offensive line be by Sunday?
Sally Jenkins writes that Mike Shanahan should be a candidate for coach of the year.
LG Kory Lichtensteiger won the Ed Block award.
RG3 has the fastest-selling jersey in NFL history.
Even the French press are covering Rob Parker's demented attack on RG3.