Report: Redskins interested in Aqib Talib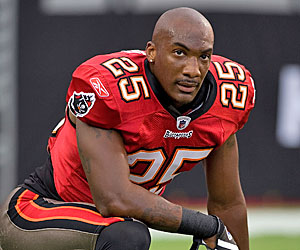 The USA Today is reporting the Washington Redskins are interested in CB Aqib Talib, most recently of the New England Patriots after the Tampa Bay Buccaneers shipped him out of town in the middle of last season.
The links between Talib and the Redskins are obvious. Redskins GM Bruce Allen drafted Talib [20th overall in 2008] in Tampa Bay and Talib's former head coach, Raheem Morris, is the secondary coach of the Redskins.
However, I'm not sure how the Redskins can afford Talib unless they plan to do some real clear-cutting in the extremely near future. [As in, the next few hours.] The Buccaneers traded Talib last November largely because they believed Talib would want a huge payday and they didn't want to pay it to him.
And who can blame them? Talib is a terrific talent who can be a true #1 cornerback in the NFL -- something the Redskins defense needs badly. However, he comes with a ton of baggage.
But shots echoed through the area on March 21, 2011, as a family dispute escalated into violence. Garland Police charged Aqib Talib with aggravated assault with a deadly weapon. Authorities believe Talib fired a Ruger .380 handgun at his sister's live-in boyfriend, Shannon Billings, and attempted to pistol-whip Billings with a Springfield 9mm semiautomatic handgun.
Talib owned both weapons. Recounting the incident to police, Billings said Talib yelled, "You're going to make me throw away my career," during the attempted pistol-whipping.
By the time of this incident, talent and trouble already defined Talib's football career. Selected in the first round of the 2008 NFL draft by the Tampa Bay Buccaneers, the cornerback quickly racked up interceptions and off-field incidents.
The Green Pond Drive incident continued a pattern of poor judgment and uncontrolled aggression. And while prosecutors dropped the aggravated assault with a deadly weapon charge last summer — reportedly because Billings, a repeat sex offender, did not make the best witness — Talib remains at a critical career juncture.
Talib twice fought with Tampa Bay teammates, admitting after the second altercation in May 2009 that he needed to control his temper better. Four months later, he assaulted a cab driver in St. Petersburg, Fla., then resisted arrest on charges of simple battery. The arrest report said Talib struck driver David Duggan's right ear and neck with a closed fist and appeared to be under the influence of alcohol. The NFL suspended Talib one game for violating its personal conduct policy.
During an argument with a game official outside the Tampa Bay locker room in November 2010, Talib had to be restrained. Then came the charge of aggravated assault with a deadly weapon in March 2011.
Most recently, Talib violated the NFL's policy on performance-enhancing substances and received a four-game suspension in October. In a statement released by the Buccaneers, Talib said he "made a mistake by taking an Adderall pill without a prescription."
The list of problems grows longer if you include Talib's high school and college years.
At the 2008 NFL Combine, he reportedly told teams that he tested positive for marijuana on three occasions at Kansas. In March 2007, Talib was riding in a truck outside a Lawrence, Kan., nightclub when the vehicle struck a 23-year-old man, according to police reports. The man allegedly had pointed a gun at Talib; he was charged with felony aggravated assault. Neither the driver nor Talib faced charges.
Former Kansas coach Mark Mangino mentioned multiple suspensions early in Talib's college career, but did not elaborate on the reasons behind them. Mangino did say, however, that once Talib promised there would be no more off-field problems, there weren't.
Court documents in the Green Pond Drive case show a 2006 burglary charge on Talib's record. The burglary file is now sealed, but based on witness details, it appears to be the same case described in a Tampa Bay Times article. According to that report, shortly before graduating from Berkner High School in Richardson, Texas, in April 2004, Talib broke into a house down the street from where his high school football coach lived. Reduced charges led to a two-year probation.
Did I write that Talib comes with a ton of baggage? Make that two tons.
Talib's defenders describe him as basically a good person who makes "impulsive" decisions. He's "impulsive." See, that's what you call a bad person with a lot of athletic talent. What you call a bad person without a lot of athletic talent is "a bad person."
Talib is a ticking time-bomb, just waiting to be suspended from the NFL for a year or longer and incarcerated at some unlucky state's expense for a year or a lot longer. Any team that gives Talib a multi-year contract with a big signing bonus and depends on him to solidify the defense better know what it is doing. Because, clearly, Talib frequently does not know what he is doing.
The Redskins had one of the worst pass defenses in the NFL last year and poor secondary play was a major reason for that low ranking. Talib could improve that ranking, there's no doubt about it. But could he stay out of trouble? I don't see how anyone can be confident of that.